Situation:
North Willow Avenue at East Shepherd and extending two miles north to East Copper Ave was proposed to be widened. In addition, the project included the installation of the second and third lanes, traffic signal installation, and associated utility upgrades within the City of Fresno, County of Fresno, and City of Clovis rights-of-way. The Project alignment was developed as a one-lane, asphalt-paved urban road with unpaved shoulder and is maintained by the cities of Clovis and Fresno. The project's land use consisted primarily of agricultural and farmland properties, developed with crops, irrigation standpipes, wells and associated pumps with turbine motors, single-family rural residences, a mini-storage business, a large church, and an underground irrigation pipeline crossing.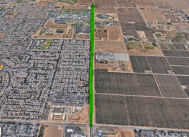 Actions:
Soar Environmental's Michael Murphy provided leadership to BC&F of Clovis to develop mitigation measures for impacts to Agricultural land (Pages 3.3 -3.7) and impacts to schools within the project footprint. His team conducted the CalEEMod for inclusion in the Initial Study, consulted with Cal-EMA, and reviewed the EAPs for Dam Failure due to proximity to the flood plain. Additionally, the team consulted with appropriate agencies such as the Fresno Planning Commission to ensure the project conforms with all county and city General Plans. Finally, the Fresno County Municipal Flood Control District was consulted to develop a run-off plan and calculate available basin water storage.
Results:
Today the corridor is a thriving urban area that separates the Cities of Clovis and Fresno. The added lanes support the educational hub of Clovis Community College and Granite Ridge Intermediate school. And the corridor supports traffic from the eastern entrance to the sprawling Copper Ridge Community.