"We're looking at early summer to reopen Highway 1."

Jim Shivers – Caltrans District 5
Monterey County, California -Good news is on the horizon. Designated California scenic Highway 1 will reopen in early summer according to Caltrans spokesperson Jim Shivers. Early February saw a major winter storm wash out Highway 1 at Rat Creek.
"The plan to reopen will take extensive work on the highway," says Shivers speaking with Soar Environmental. Highway 1 is 150 feet across at Rat Creek, which is 48 miles south of Monterey. The hole created by the washout is 50 feet deep. The hole was created by inches of rain pounding the highway during this year's first major winter storm.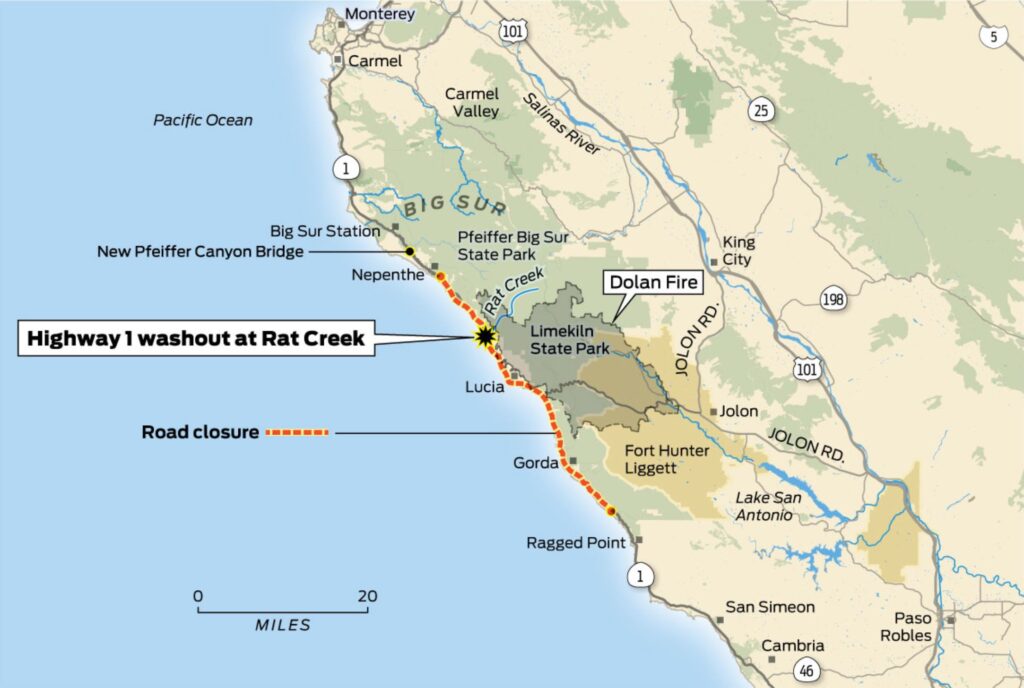 Shivers says the environment along Highway 1 has seen its share of delays from winter storms. This plan, like others on this stretch highway, will take some time to clean up, "What we're going to do is clean the extensive amount of debris that fell from Rat Creek onto the highway. Once this is completed, we'll fill the 50-foot deep hole with compressed soil and pave the road over it." Caltrans award an $11.5 million emergency contract to Papich Construction of Arroyo Grande, California to start work on March 1.
Caltrans Director Toks Omishakin said in a press release, that crews will replace the main drainage system with an oversized main culvert, a secondary culvert, and smaller overflow culverts closer to the highway grade. This will increase the capacity of the drainage system, add redundancies designed to withstand future debris flows, and enhance the resiliency and sustainability of the highway against rising sea levels and coastal erosion, preventing future damage from similar debris flows.
Time will tell how the fix will hold up.
This should serve as good news for tourists that travel the scenic highway through Big Sur to San Simeon, an international destination on the Central Coast of California.
Soar Environmental Consulting, Inc. is a California Disabled Veteran Business Enterprise. Our multidisciplinary staff of professionals provide the environmental technical expertise for CEQA and NEPA analysis and permitting for infrastructure projects and environmental program oversight for both public and private agencies.